In decades past, perhaps you've sold tickets to your big gala through direct mailers and ticket tables.
Over the last 20 years, you've incorporated email into your marketing campaigns.
Now, there is a new dominant marketing channel that you cannot ignore for your fundraising event: Facebook
In this post, you will learn the basics of Facebook event marketing so you can sell a record number of tickets to your fundraiser!
---
Why Promote Your Event on Facebook?
Before we get into the tactics, let's discuss why Facebook marketing is worth your time.
It's Mobile
Unlike snail mail, your supporters can be anywhere with internet access to see your social media posts. And unlike email, you posts won't get hidden in any promotion or spam folder.
Facebook promotion meets your supporters where they are.
It's Interactive
People are interested in things other people are interested in. Likes, shares, comments, and RSVPs are signals of interest among your supporters.
It Has Broad Reach
69% of US Adults use social media. That number increases to 88% for Americans 18 to 29.
You don't need to know supporters' physical or email addresses. You just need them to follow you on Facebook.
It's Inexpensive
It is 100% free to set up a Facebook profile and publish posts.
Sure you may pay a pretty penny to advertise, but if you can drive organic followers, you will certainly stay with budget.
It Drives Conversions
Facebook marketing can move supporters through all three stages of the conversion funnel (Awareness, Persuasion, Conversion).
You can let people know your event is taking place (Awareness), convince them your event is worth attending (Persuasion), and collect signups via a link to your ticketing page (Conversion).
---
The Basics of Posting on Facebook
What Kind of Account Do You Need?
Facebook Business Page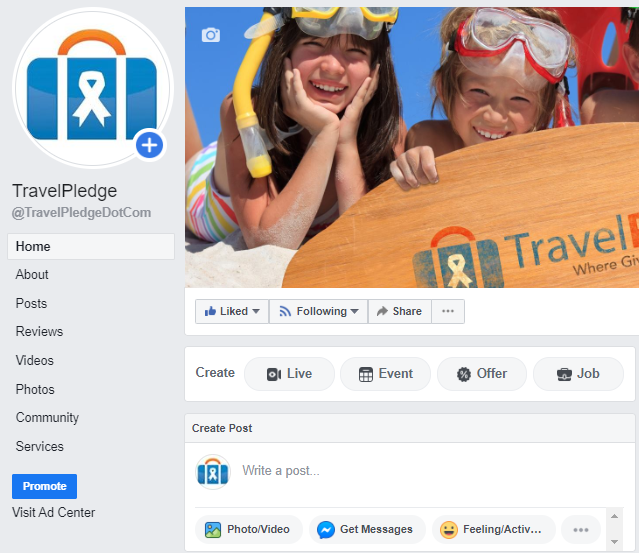 If your organization already has a Facebook business page, ask the existing administrator to add you as an Editor or Admin.
When you post from your business page, you are assuming the "voice" of your organization. Your posts will show as coming from your organization, not you personally.
Be certain to fully build out your business page's profile with photos, videos, descriptions, and other data.
Not only will this give page visitors a better experiences, it will help Facebook properly categorize your page as it suggests it to people who may like it.
Alternative: Facebook Groups
For more intimate communities, you may have a group instead of a business page. Groups are a place to communicate about shared interests with certain people.
For the rest of this article, we assume you have a business page instead of a group, but you can learn more about the difference here.
Who Will See Your Posts?
Visitors to Your Page
For most organizations, all of your posts will be publicly visible to visitors of your Facebook business page. This is usually desired, as you want as many people as possible to learn about your organization.
However, some organizations may choose to place age and country restrictions.
Likers and Followers
Your supporters may choose to like or follow your page.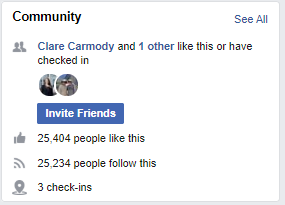 People who like your page automatically are marked as followers, though they can choose to unfollow your page subsequently, while still liking your page.
People "like" your page to show support for your cause. People "follow" a page so your posts show up on their News Feed.
Getting followers takes diligence, but it usually no more complicated than regularly asking the people in your sphere to follow the page.
Some strategies include:
Have you and your team share your organization's page on their personal Facebook accounts and ask people to like it.
When people show up to an event (either a fundraiser or other regular programming), ask attendees to take out their phones and like your page.
Add "Like us on Facebook" links to your organization's email signatures.
Boost posts (see below) to reach people outside of your followers. Consider interest-based audiences and lookalike audiences.
Remember, while you want many followers, it is equally as important that your followers are relevant.
Showing posts about your event to people across the world doesn't do you any good, so you should never pay a click farm to build your following!
Friends of Followers
There are two ways that friends of your followers will see your post:
Shares and Invites

Followers can share your post onto their News Feed so their friends will see it. In the case of an event, they can share the event or directly invite their friends. Direct invites send the invitee a notification so they get a higher response rate.

Boosted Posts

Boosted posts are posts from your business page for which you pay Facebook to "boost" to more than just your followers. A common tactic is to boost your post to friends of your followers, with the thought that the friends will be like minded in the causes they support.
Event Searchers
Lastly, Facebook lets users browse for events their area using the "Discover Events" feature. Potential attendees can find your event by filtering by time, location, and category (e.g., "Causes").
---
Promoting Your Event
Now that we've covered the basics, it's time to roll up our sleeves and drive some signups.
Step 1 – Create Your Event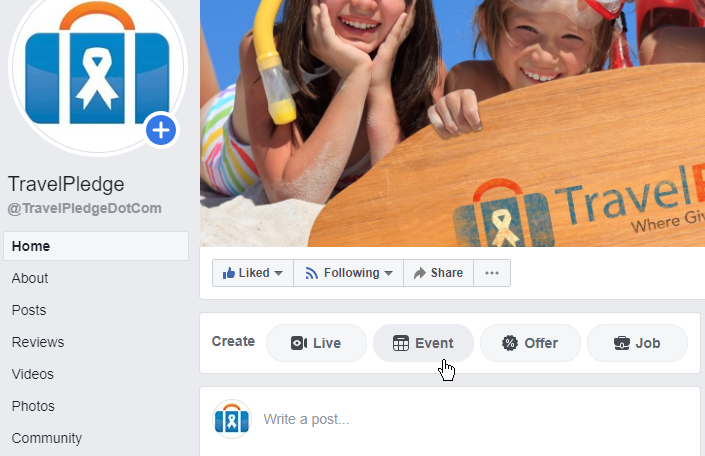 From your business page, create an event that explains the details of your fundraiser.
Note the following tips:
Take the time to fill every field and write a description that builds excitement. Always put the most important details at the top.
Using an attention-grabbing image or video is hugely important to driving signups. 1920 x 1080 is the ideal resolution, and be certain not to overlay the image with too much messy text (avoid the nightclub flyer look).
Keep the name of your event short since it will get cut off on mobile devices. Avoid the "15th Annual…" modifiers. "Spring Gala" is just fine.
Uncheck the box that only lets admins post to the event.People who care about your cause will express their excitement or write a note why they can't attend. This engagement serves as social proof to other potential attendees.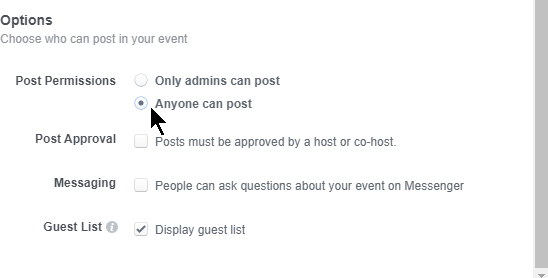 Step 2 – Salt the RSVP List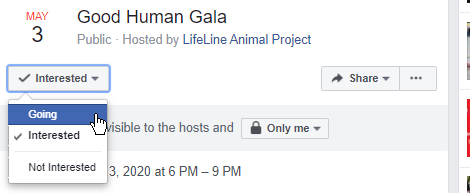 There's a reason that tip jars at coffee shops are never empty, even if you are the very first customer.
The baristas add some bills to serve as social proof that tipping is something other people did so you should too. This is called "salting the tip jar."
The same thing goes for Facebook events. Nobody wants to be the first to the party, so you should have your coworkers and volunteers mark themselves as going.
For extra credit, have them like the event and leave a comment.
Now, when you promote the event, nobody will hesitate about being first.
Step 3 – Let People Know About Your Event
It's time to get the word out. Sure, your event will show to your followers, but there are some easy strategies to grow your reach further.
Invite Your Friends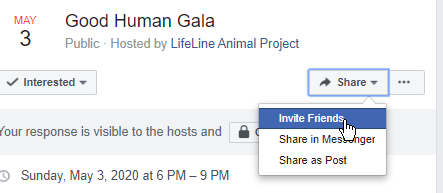 While your organization's Facebook account can't send invites to potential attendees, personal accounts (including your own and your co-workers) can invite their friends.
Invites are more attention-grabbing than your event simply showing up on a News Feed since they send the recipients a notification.
Be aware, however, that Facebook limits your invites to 500 per person to avoid spamming people. And, they are known for shutting off invites if you have a broad invite list and no one responds. Invite only relevant people.
Add Sponsors and Vendors as Cohosts
If you are working closely with some key sponsors or vendors, you can add them as co-hosts. This lets them add their logo and post in the event page.
Why is this helpful to you? If your sponsor has significant Facebook reach, then your event will show to their followers.
Of course, only add co-hosts you 100% trust to post appropriately in your event.
Ask Supporters to Share the Event
When someone shares your event, friends of the "sharer" will see your event on their News Feed.
Someone sharing your event is one of the most effective ways of reaching new people outside of your followers. This is the "network" part of "social network".
When asking people to share your event, make it seem like sharing the event is for their benefit. For instance, say "Who else would you like to see here?" instead of "We really need your help getting the word out."
Run a Contest
The goal of a Facebook contest is to encourage engagement with your posted event.
"Engagement" has a particular definition in the context of Facebook. It means any sharing, commenting, or liking of your event.
Facebook measures engagement to determine how prominently to display your event on your followers' News Feeds. More engagement means more promotion.
One effective way to spur engagement is to run a contest. Simply ask people to "engage" with your event to enter them into a prize drawing.
Some common contests are:
Like
Comment
Share
Tag a friend
RSVP
"Boost" Your Event
You can pay Facebook to show your event to people outside of your followers. This is known as "Boosting Your Event."
You can target people based on gender, age, location and interests. You can also target people – and their friends – who've liked your Page.
Step 4 – Post Updates to Drive Conversions
Making people aware of your event won't do you any good if they don't show up.
Advancing people through the rest of the conversion funnel requires you to convince people your event is worth attending and ultimately drive a timely signup.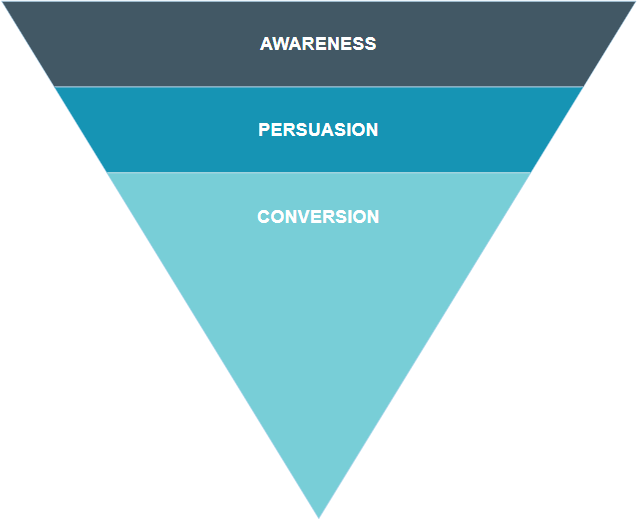 You must address the following three questions for constituents:
"Why Is Your Event Worth My Time and Money?"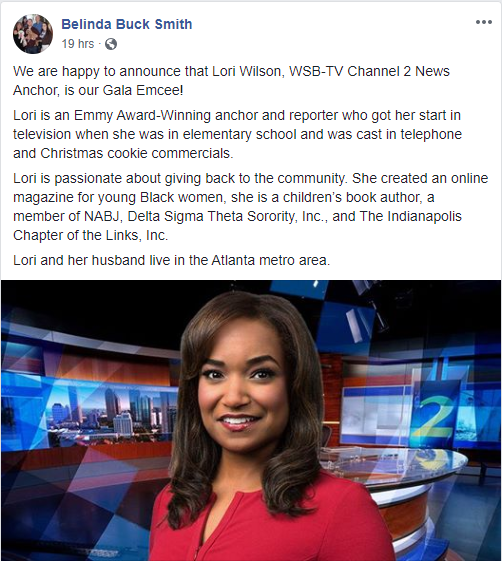 The answer will be different for different people. Surveying your constituents, you may hear:
"I want to come to a fun social event with my friends."
"I only attend fundraisers for causes I am passionate about."
"I like to bid on auction items."
Post updates to address the needs of your audience. For example:
To persuade the fun-lovers, post photos from last year showing people have a blast at your event or showcase your celebrity emcee.
To persuade the philanthropists, post a profile of a beneficiary of your organization's work, explaining you can only do what you do with community support.
To persuade the auction goers, tease various items you've procured for you auction and promote pre-bidding.
As with Step 3, encouraging engagement on your posts is a good idea. Consider asking your audience a poll question like "Which blazer should our auctioneer wear?"
"Why Should I Buy My Ticket Now?"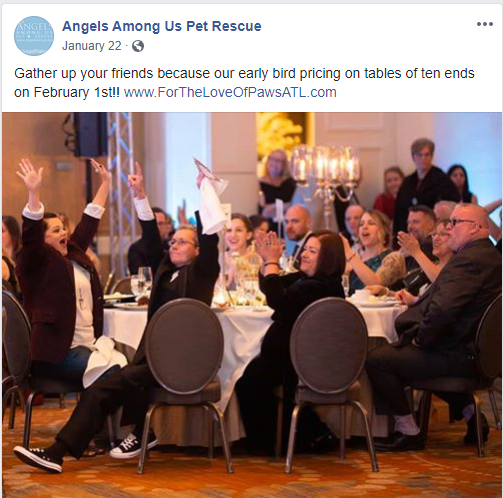 Two immutable truths about humans are that we like to procrastinate and we get major FOMO.
These spell bad news for event planners since potential attendees may forget about your event or wait to find a better alternative before buying their ticket.
You need to give them a reason to buy their ticket today. Some common strategies are:
Giving an early bird discount for purchases before a certain date
Offering a limited number of tickets at a particular price
Gifting a prize or special recognition to early signups
Generally, creating scarcity with statements like "Tickets are going fast!"
"How Can I Buy My Ticket?"

Perhaps the most important of all, you need to make it easy for people to buy their ticket from Facebook.
Especially for larger events, invest in a robust online ticketing system (we already mentioned Facebook's integration with Eventbrite).
A good ticketing system will not only help you track signups, it will also make it easy for people to checkout on their smartphones and help you automate selling sponsorships and advanced ticket packages.
Add the link to your Facebook event and to your posts. And, of course, give alternatives like sending in a check, as well so everyone has an easy way to pay you money!
---
Conclusion
When it comes to marketing your event on Facebook, "If you build it, he will come" does not apply.
It takes diligence, year after year, to build your Facebook business page's following.
It takes creativity to get your Facebook event in front of your community.
It takes strategic thinking to drive your audience from the awareness stage all the way to a conversion.
Happy marketing!