Getting supporters to attend your nonprofit's gala is tough work, especially if it is your organization's first year throwing an event.
Planning a proper marketing campaign can help you sell tickets efficiently and stay on budget.
In this post, we explore ways to structure your thinking about event marketing and suggest tactics for driving ticket sales.
Step 1: Define Your Target Audience
When marketing a fundraising event, your target audience generally derives from answers to the following questions: Who? and How Many?
Without answers to these questions, you risk spending time and money reaching the wrong people, or overspending/underspending on marketing to sell your desired number of tickets.
Who do you want to come?
Broadly speaking, there are two factors that go into picking your target audience:
How much value can the target bring your organization? Consider monetary and strategic value (e.g., personal connections).
How much effort will it take to convince the target to come to your gala and ultimately support your organization?
"Shouldn't we just target high net worth individuals?"
For example, you may think to target exclusively billionaires; however, you could find that there are many other organizations competing for their attention, so it would be prohibitively expensive to deliver a compelling message.
A less competitive, yet strategic, target could be young professionals, who have many years ahead of them to give and vibrant networks on social media.
You can have multiple targets. However, if you have too many targets, you risk spreading yourself too thin trying to deliver a customized message to each group.
You may be better off holding multiple events, with different messages and activities for each target group.
"But can't we just market to everyone in our database?"
You may be wondering why you need a target audience if you are simply going to invite everyone in your database. The answer is two-fold:
Your database is not homogeneous: You event likely appeals to some in your database than others. Additionally, some in your database have more to offer your organization than others. By all means, invite everyone, but tailor your message to your target.
Your database is not enough: Your event is a great time to expose newcomers to your cause. On average, 20% of your audience will "turn over" each year. You need to expand your reach to fill that gap and even grow your event.
For more information on picking targets, see our post: Target the Ideal Donors for Your Benefit Event.
How many people do you want to attend?
The ideal numbers of attendees will vary greatly from event to event. Your support base, venue, and planned activities will dictate how many tickets you should aim to sell.
If you are running a live auction, however, an audience of 100 buying units (around 200 people) is the minimum size required for competitive bidding.
Smaller events need to be very selective about whom they invite. A room full of "eaters not bidders" in a small audience is a disaster.
Step 2: Plan Your Conversion Funnel
If you Google "marketing funnel", you will get lots of results describing the process to generate leads and ultimately making a sale. Most models boil down to a three stage process:
Make people aware of your event.
Persuade people that your event is worth attending.
Convert them into a sale.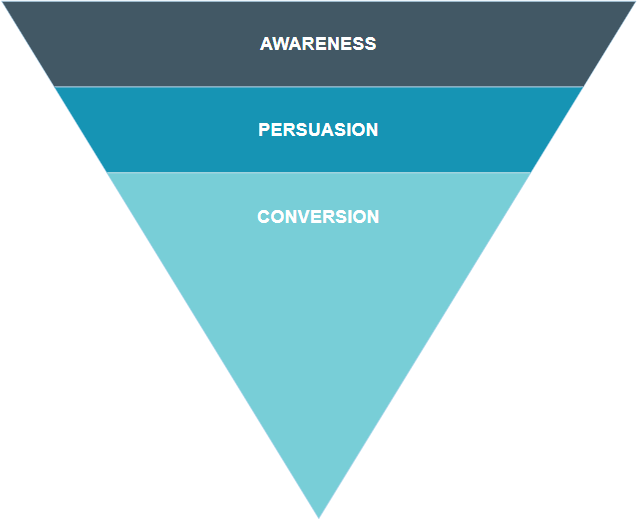 You will need to customize your conversion funnel for each of your target segments. Deliver the right message to the right people via the right channel.
For example, you may want to encourage signups among lifelong supporters with a mission-focused message, while delivering a transactional message ("Our gala is the perfect date night!") to potential newcomers.
Reference the table below for some ideas and tweak it to fit your situation.
Awareness
Persuasion
Conversion
Heavy Hitters
-Feature event on newsletter
-Postcards
-Emails
-Phone calls
-Social media posts
-Short video about the good work your organization is doing and the impact from their previous generosity
-Other emotional appeals about your cause
-Include SASE in mailer
-Sell tickets at other meetings for your organization
-VIP ticket offering
-Sponsorships
-Links to event landing page
One-Time Supporters
-Postcards
-Emails
-Social media posts
-Short video about the good work your organization is doing and the impact from their previous generosity
-Tease exciting auction items, live band, etc.
-Early-bird discounts & promo codes
-Emphasize limited tickets left available
-Onsite ticket booth (great for converting museum visitors)
-Links to event landing page
Not-Yet Supporters
-Word-of-mouth campaigns
-Social media and paid search ads (use Facebook lookalike audiences)
-Local newspaper/radio (try to get a feature about your cause!)
-Flyers at local businesses
-Community calendars
-Highlight pictures/video from last year
-Tease exciting auction items, live band, etc.
-Volunteer selling
-Early-bird discounts & promo codes
-Pre-event raffle ticket sales (winner announced at event)
-Onsite ticket booth
-Links to event landing page

Step 3: Set a Budget
So you've got a lot of great ideas to convert members of your community to your event. But, you've got limited time and resources to execute each line item in your conversion funnels.
Here's where it's time to sharpen your pencil, build you budget, and make some tough choices.
The Bottom-up Budget
In building a "bottom-up" budget, you outline what you need to do to meet your objectives (i.e., Step 2), and then identify the costs to execute each of those actions.
Bottom-up budgeting forces you to justify each expenditure up front. If you don't expect a marketing activity to give you an acceptable ROI, then it doesn't make the budget.
If the costs are prohibitively high, iterate on your planned marketing activities until you have the mix you think will maximize your net return.
For example, a line item in a bottom up budget would look like this:
| Budget Item | Details | Budgeted Amount | Actual Spend |
| --- | --- | --- | --- |
| Facebook lookalike ads | $20/day for 30 days | $600 | - |
| Postcards | $1.50/postcards x 1000 postcards | $1500 | - |
| Outbound phone calls | $15/hour x 20 hours | $300 | - |
| ... | | | |
The contrast to this is "top-down" budgeting, in which a certain amount of money is allocated to marketing. Then, you allocate that money to your various planned marketing activities, typically on a "percentage of total" basis until it's gone.
Top-down budgeting often results in overspending ("We have some leftover budget, so let's have a pizza party!") or underspending ("We'd get a really good return on those ads, but we don't have the budget.").
Things to Consider for Your Budget
Here are some things to factor in when creating your budget:
Design services and video production (check out Fiverr for affordable freelancers)
Printing and mailing
Website building (Eventbrite is great for ticketing)
Digital marketing
Print marketing
Employee payment
Ticket discounts
Step 4: Build Your Creative Assets
Creative assets include any marketing material you will be sending to potential supporters. These include postcards, landing pages, digital advertisements, videos and more.
Build Assets at One Time
If possible, build as many of your creative assets at one time (before you officially launch your campaign).
This will save you time in the long run. You will know where all your favorite logos, images and verbiage are stored, and you won't have to continually re-learn your PDF editing tool!
Your end products will also have a more consistent look and feel, which communicates to supporters that your gala is run by people who know what they're doing.
Hire a Graphic Designer
Don't hesitate to spend some money on a graphic designer. Fiverr is a marketplace to hire freelancers to make your flyer, video, landing page and other collateral.
You'd be surprised with the professional set of marketing materials you can acquire for $200!
Create Urgency
When crafting communications, always stress that now is the best time to buy your ticket. You can achieve this by offering an early-bird discount or stressing that you have a limited number of tickets left (the latter is technically true for any event).
People want to go to well-attended events, so give out the vibe that ticket sales are going great. After all, nothing draws a crowd like a crowd.
Step 5: Execute, Measure, Refine, Repeat
Congrats! You are ready to launch your marketing campaign. Though, your work is not done.
Devise ways to measure the efficacy of each marketing tactic you employ. Then use that immediate feedback to make any adjustments to future tactics.
Some ways you can measure response is by adding a special promo code to mailers to see how many people use it, or by looking at click-through-rates on your emails and social media advertisements.
You may find, for example, that using a still photo performs better on social media than a video. Modify your future advertisements accordingly.
---
A word of caution: Your early marketing tactics may not achieve the measured results you are hoping for. Don't be discouraged. Just remember the "Marketing Rule of 7" that says a prospect needs to hear your message at least 7 times before they'll take action to buy your product.
So, your early communications are just laying the groundwork for future success.
Happy marketing!