Once you finished procuring items for your benefit auction, it's time to put together your auction program.
Once you've decided on which items to include in your live auction, putting your live auction items in the correct order can make a huge difference in your total revenue.
Here are some tried and true tips:
1. Lead Off With a Tangible Item
Starting with a tangible and "emotional" item focuses the audience's attention and engages them from the get-go.
Something for kids is always great, such as a wagon of toys, a big stuffed animal, or an assortment of video games.
A hot apple pie or an "instant romance package" (roses, champagne, flute, restaurant gift card) are good alternatives.
2. Place the Premier Item Just After Halfway
Never save the best for last! Your "premier" item should be 50-60% of the way through your list.
The second highest bidder needs some good items to bid on after the high bidder of the premier item wins.
3. Do Your Paddle Raise Immediately After the Premier Item
The "Paddle Raise" (AKA "Fund an Item" or "Emotional Appeal") is the section of your benefit auction when you make a direct request of the audience for a cash donation.
Insert your request right after you sell the premier item – while your audience is still thinking big numbers.
4. "Ramp Up" & "Mix It Up"
Mix the categories of items whenever possible (avoid back-to-back dinners, for instance), but also avoid jumping from a low value item to a very high value item.
It is hard for the audience to transition from a $500 item bid mentality to a $10,000 item bid mentality, which is why ramping up to your premier item is important.
5. Put Merchandise First and Experiences Last
Merchandise sells best early in the live auction, while experiences (trips, dinners, golf outings, etc.) sell best later on.
Avoid selling tangible items at the end of the auction – that is the "experience zone." Experiences are tougher to quantify their value, so bidders opt to spend the rest of their available budget.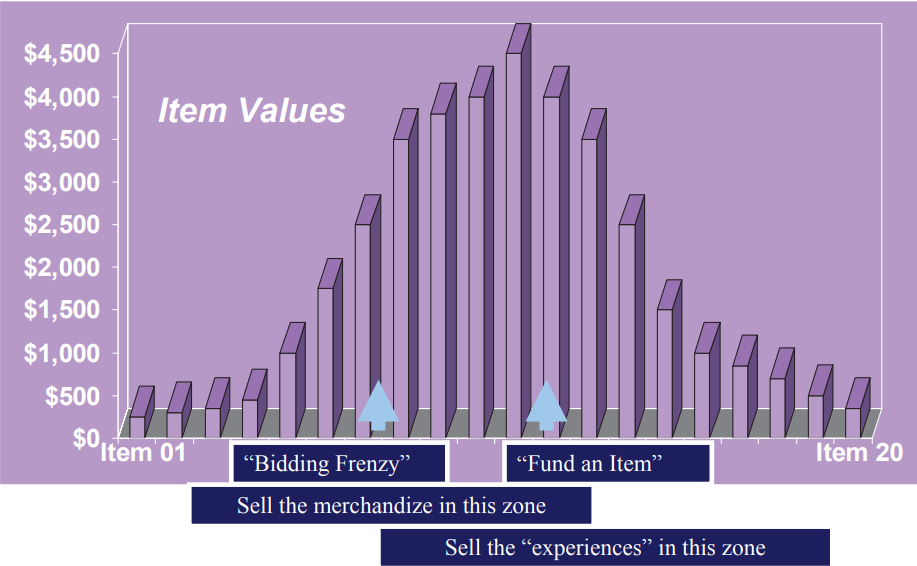 ---
This post is adapted from The Big Book of Benefit Auctions by Jay R. Fiske and Corinne A Fiske.