This week, we updated the look and content of TravelPledge's homepage. We are very excited with the result and wanted to share with our customers why we made the change.
TravelPledge Is Not Just Another Travel Consignment Company
In some nonprofit circles, "travel consignment" is a dirty word and for good reason.
Most travel consignment companies work on a fixed-price model, where the nonprofit pays a predetermined (and high) price if a certificate sells.
For consignment companies, the fixed-price model works well since they receive the same money regardless of the winning bid.
For nonprofits, however, the fixed-price model doesn't work so well. Whenever an item sells at the reserve price, the nonprofit nets a marginal donation at best and often even loses money!
TravelPledge Is a Matchmaker
Rather than a consignment company, TravelPledge is a matchmaker between nonprofits and generous business owners.
We streamline item procurement by partnering with businesses who agree to donate or partially donate certificates to qualifying causes.
Enter the New Homepage
We felt our old homepage didn't emphasize our position as the nonprofit's connection to generous businesses.
The new homepage better explains what our unique model has been all along and why it is better for nonprofits.
Keep More of the Winning Bid
When a business posts certificates to TravelPledge, they specify which causes they support and how much of each certificate to donate.
When you check out in TravelPledge, we ask you to report the winning bid since we calculate your invoice as percentage of your proceeds. This model guarantees that you generate a meaningful donation no matter the winning bid.
On the new homepage, we added a "Donation Calculator" so you can see how TravelPledge beats fixed-price consignment. Use the slider to see how much you'll keep with fixed-price consignment vs. TravelPledge.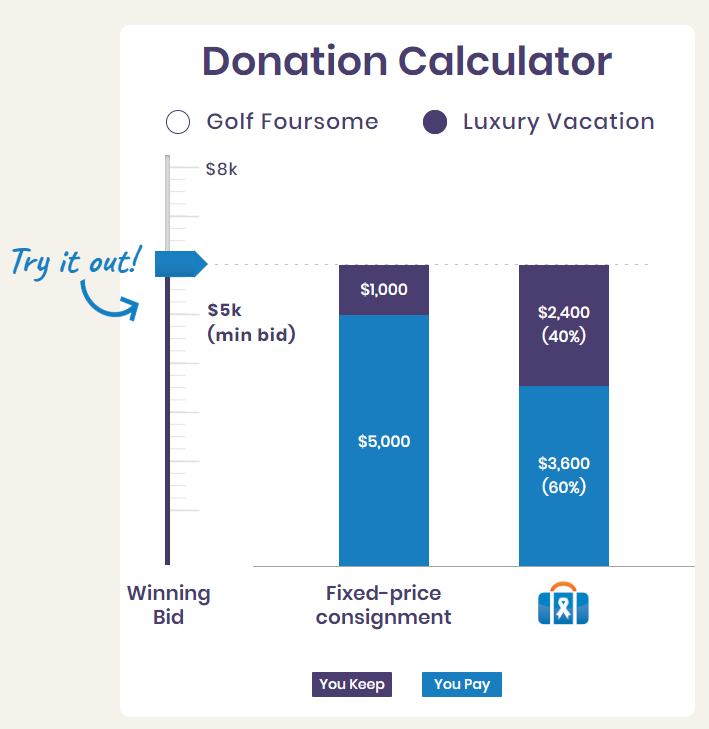 Local Experiences
For the vast majority of donors, a local golf round or drivable B&B getaway is a more attractive auction item than a vacation across the world that they may or may not take.
Likewise, the vast majority of businesses would much rather support a local nonprofit. Since we let businesses choose to support only nonprofits within a 40-mile radius them, we are able to partner with many smaller local businesses.
We are now highlighting our inventory of local experiences on the new homepage. The experience preview section gives visitors a sample of local experiences (in addition to some international bestsellers) based on their browser location.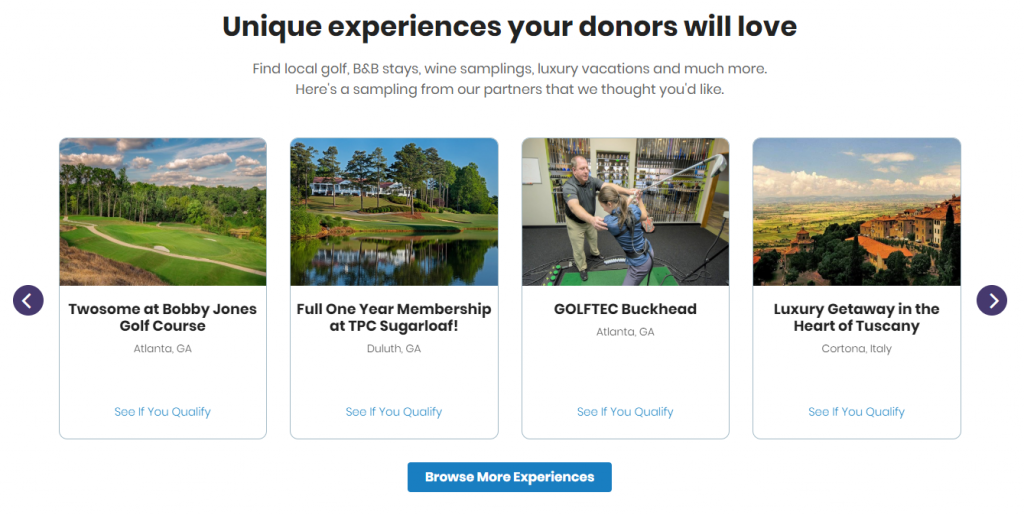 Direct Connection
A major advantage that TravelPledge has over travel consignment companies is that we connect winning bidders directly with the businesses that posted their certificate to TravelPledge.
This ensures winning bidders don't get the run-around redeeming their certificate through middlemen and that they speak directly with the people responsible for fulfilling their certificate.
We highlight this direct connection on the new homepage with a GIF, though before doing so we had quite the discussion about how to pronounce "GIF." ; )
---
Thanks for checking out the new homepage. We have some exciting updates happening in your TravelPledge dashboard. Stay tuned!