We are often asked by nonprofit fundraisers to compare our program to the consignment auction packages they've used (and typically had bad experiences with).
Below is our response:
---
What Are Consignment Auction Packages?
"Consignment" is an agreement for a seller of goods to pay the supplier after the goods are sold.
The goal of the seller is to command a price that exceeds their cost to the supplier. If the item does not sell, there is no charge, no cost and no risk.
Organizers of benefit auctions may procure items with a combination of donations and consignment.
The donated items are usually modest donations from personal connections or local businesses. By contrast, the consigned items serve as the headliners (e.g., "Tickets to the Super Bowl").
Why Are "Old School" Consignment Auction Packages Bad for Nonprofits?
Low Winning Bids Mean High Risk
"Old School" consignment items are provided at a fixed cost. The amount paid by the bidder over that fixed cost constitutes the net donation.
However, this relationship is inherently risky.
The cost to the supplier may be so high that it is very difficult to generate a meaningful donation. A nonprofit could sell a vacation for $4,500 and net only a few hundred dollars after they pay the supplier!
Conflicts of Interest for Auctioneers
"Old school" consignment also introduces a potential conflict of interest for your live auctioneer.
Some experience providers pay auctioneers to sell their packages. While these connections can help you access unique items, they could result in the auctioneer making recommendations that don't maximize your net donations.
For example, an auctioneer may recommend a luxurious European vacation when a getaway to a B&B would better fit your audience.
Your net donation won't determine how much the experience provider or auctioneer get paid if the European vacation sells.
---
How Is TravelPledge Different?
Our Incentives Are Aligned
Rather than paying a fixed cost, the invoice on a TravelPledge experience is proportional to the size of the winning bid.
This guarantees that the nonprofit keeps at least 40% of the winning bid on big-ticket items, like vacations, and at least 80% of the winning bid on small ticket items, like golf foursomes.
TravelPledge has many donated experiences with nearly no cost. As an example, a foursome of golf at a top course could sell for $500 and provide a net donation of $400.
See precisely how your invoice is calculated.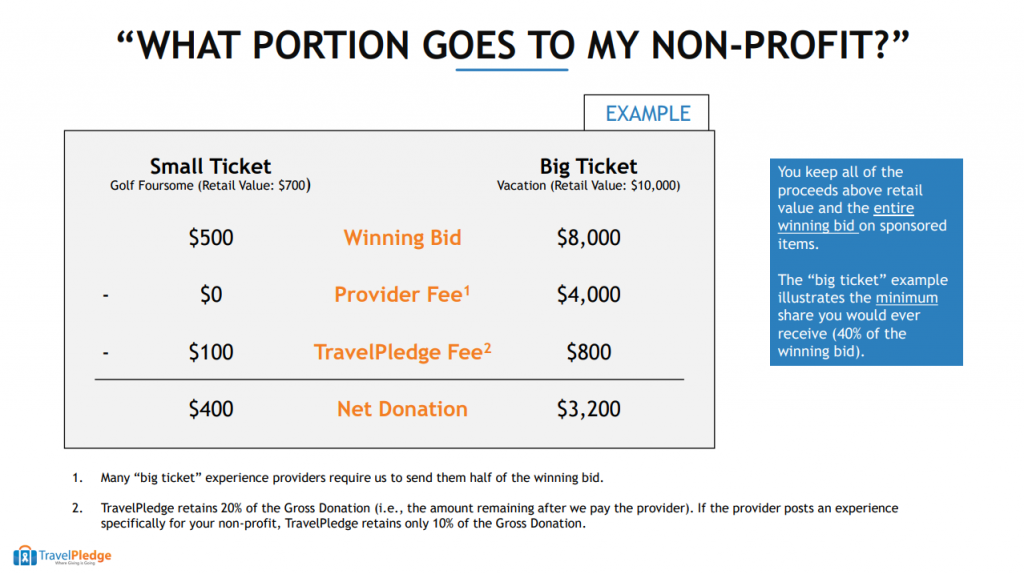 We Partner with Generous Providers
We are able to offer advantageous pricing by partnering exclusively with generous experience providers. Our providers value the promotion they receive and make more auction packages available to nonprofits as a result.
TravelPledge's fees are very low because we never pay auctioneers to put our experiences into auctions.
And One More Thing…
An additional note about not paying auctioneers to put our experiences into auctions: We even put together the Directory of TravelPledge Certified Professionals to help you find an auctioneer or consultant you can trust.
Each TravelPledge Certified Professional agrees to operate in a financially transparent and legally compliant manner and follow key strategies to maximize your donations.